Teen Patti
If you want to spice up your family or social gatherings? Try playing Teen Patti! Popularly known as the 'Indian Poker,' it's one of the most favorite games of all time amongst players. Teen Patti in Hindi or 'Three Cards' is similar to 'Three Card Brag,' a popular British game.
Not only is it famous in India, but it's spread across South Asia too. 'Flush' and 'Flash' are other tags to this Indian gambling game in parts of Asia. Want to learn more or try it out online with real money? Check our chosen casinos and info below!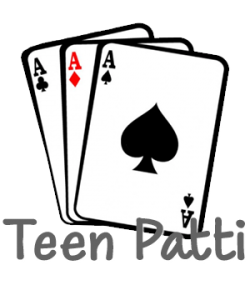 Enjoy Teen Patti Online at Indian websites!
We have come so far in online technology now, so it's prevalent to play Teen Patti online in India. Enjoy this fantastic game from all your online devices. We recommend you to play Teen Patti in the live casino section. There you get as close to a real casino experience as possible.

Welcome Offer: ₹80,000
For Live Casino & Casino
18+. BeGambleAware. Terms Apply.

Casino, Sports, Live Casino
Welcome Offer: ₹75,000
18+. BeGambleAware. Terms Apply.

Welcome Offer: ₹2,000
For Live Casino & Casino
18+. BeGambleAware. Terms Apply.

Welcome Bonus: ₹20,000
For Live & Casino
18+. BeGambleAware. Terms Apply.

Live Casino Bonus: ₹8,000
+ 10% Cash Back
18+. BeGambleAware. Terms Apply.
Short History & About Teen Patti
In the Indian context, there might be several theories about how this game came into play if you dig deeper. Still, there is no concrete evidence about its history. But one thing's for sure; Teen Patti has grown into a super popular online casino game.
Furthermore, a maximum of 10 players can play Teen Patti, though 4 to 7 is the ideal number. When you play online, it's most common to play alone. Then you sit down at the table and start playing.
The player who has the highest authority cards win the game. We'll see what that means below. Betting is done in a counter-clockwise direction to the dealer and is played with a deck of 52 cards.
How to Play Teen Patti
Let's dive into how to play Teen Patti online and offline! The primary things required are 52 Card Pack, Dealer, and Players. The dealer distributes exactly three cards to all the players. Once the cards are received, the players have two options: play blind or play seen.
'Play blind' is to bet without seeing the cards or when the cards are facing downwards.
'Play seen' is when a player decides to place a bet after seeing the cards. A pot is placed in the middle of the table, where each player will put a minimum stake into it before playing. And there's no limit on the smallest stake, but the players' collective decision.
If a player chooses to play blind, he has to put half the amount as the player's stake who decides to play seen. The ranking of the cards determines the winning of a player.
Now, what does ranking mean?
The Ace has the highest priority or weightage than other cards, and the number 'Two' has the least importance or ranking.
Here is how the ranking can be:
Trail or Trio: If the player has three cards of the same rank, then he wins. Ex: A-A-A. The Ace is the topmost priority, while 'Two' is the least.
Straight run: When the player has three cards of the same suit, he is given priority. Ex: A-K-Q and goes on to 4-3-2. An invalid trio is 2-A-K. 
Normal run: Similar to straight run, but here, cards can be of a different suit. Ex: A-K-Q, A-2-3, and so on. 
Pair – Having two cards of the same rank is given priority. Ex: A-A-K.
Colour – Three cards belonging to the same suit. If two-card colors are the same, compare the highest card and so on. Ex: A-K-J and 5-3-2 the lowest. 
High Card – When three cards do not fit any of the types, compare the highest, and then move on to the lowest. 
Now that you've understood the ranking and Teen Patti's initial set up, the real betting starts. The game begins from an anticlockwise direction from the player sitting left to the dealer. And don't worry about the time limit as there is non for this game. It can be played as long as one chooses to.
If a player wishes to stop, then he has to fold and pay nothing. That also means he loses all his money in the pot. If a player wishes to continue, he can place a bet in the pot, and the amount depends on whether the player is playing blind or seen. A seen player should put twice the amount of a blind player into the pot while betting.
And this is a loop. It continues till all the players decide to fold except one or two. If only one remains, all the money in the pot goes to him. But, if two players remain, the one with the highest rank is given the top priority and wins the game.
"Teen Patti Online – The number one choice amongst Indian players!"
Where to Play
Gone are the days when Teen Patti got played with family members during the time of festivities. Nowadays, with the increase in Internet usage and smartphones, traditional games are going digital too.
Teen Patti once was played during Diwali's time, is now being played all around the year and anywhere. Not sure if that took away the essence of the game, but it sure has made it all more convenient.
You can play the game with friends around the world by, for example, sitting on your couch. So what we see at gaming companies that focus on online gambling in India is that they all offer Teen Patti in their live section.
Physical presence is no longer needed to connect with people to have a fun gaming night. In other words, you can play Teen Patti on various websites and mobile apps. If you feel like playing the game with real money, click here to see our Teen Patti casinos.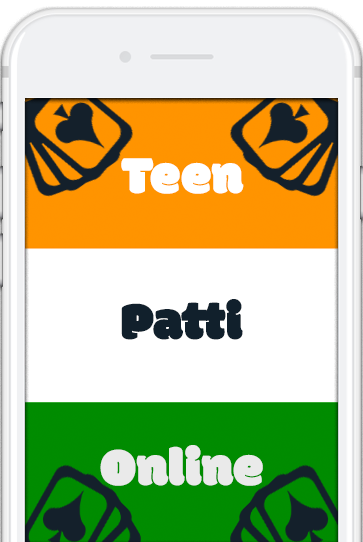 Teen Patti Online
As mentioned earlier, online sites have made it easier than ever to play card games. Most of the games have gone digital, and we are getting to experience traditional games in a more contemporary way. Teen Patti has made its way to casino games, much like other card games. Though it is a game of chance, you win a significant sum of money if the bet placed goes your way. Also, when playing online, the game goes faster and smoother compared to land casinos.
Teen Patti Online is played by 1. Downloading the app and play for fun or real. Or 2. at different websites that offer Live Casino. So you no longer have to wait for Diwali or the next family gathering to play this game with online Teen Patti.
Summary
That was a brief overview of this exciting Indian betting game. Though it is a game of chance, applying a wee bit of strategy can help you win in Teen Patti. It is not straightforward like Andar Bahar, but that's what makes it all more interesting.
Furthermore, it might take some time to learn the game if you're an amateur, but you will embrace it once you get the hang of it. That said, practicing responsible gambling is paramount. Remember that it's just a game and know when to stop to avoid severe consequences. We don't want anyone ending up with gambling issues.
So head out there and enjoy the game and hope for some nice wins!.
Can you play Teen Patti online with real money?
Yes, you can play Teen Patti online with real money at various gaming sites. To get a real casino feeling, enter the Live Casino section. Have money on your account, sit down, and play.
Can you use welcome bonuses on Teen Patti online?
Most gambling websites will give you welcome bonuses, and you can use them on Teen Patti. First, activate the bonus with a deposit and then look for the game. But, please read the terms and conditions before starting anything. It's important to know where the bonuses function. If everything checks out, then start playing and hope for some wins.
Is online Teen Patti rigged?
When it comes to online Teen Patti with real money, some might think it's something shady going on. In short, the sites haven't and can't host rigged games. They already have a slight mathematical advantage over the players anyway. In other words, the casinos will win money from all players in the long run.
Where can you play Teen Patti online in India?
There are numerous places where you can play Teen Patti online. If you want to play for fun, there are downloadable apps. But if you prefer gambling with real money, we recommend online casinos. You find the best casinos here on our website.

Jonas Gustafsson
Founder & Editor
Page created by Jonas Gustafsson, 10+ years of online gambling experience.
Contact: jonas@gambul.com