Andar Bahar
Andar Bahar is a casino game that's likable amongst players in India. It's undeniably one of the most entertaining pastimes due to its simplicity.
You can play Andar Bahar online or experience the feeling of playing at a real land casino. Let's take a look into this Indian gambling game as there is more to this century-old activity.
Andar Bahar - A simple but yet exciting game!
Welcome to a simple card game that is appreciated and can be played by all players. The chance of winning is about 50%/50%, making many people implementing various strategies for winning. So if you feel like something funnier than flipping a coin, Andar Bahar can be the game for you!

Andar Bahar Online
Welcome Offer: ₹30,000
18+. BeGambleAware. Terms Apply.

Online Andar Bahar
Claim ₹30,000 Bonus
18+. BeGambleAware. Terms Apply.

Offers Andar Bahar
Welcome Offer: ₹75,000
18+. BeGambleAware. Terms Apply.

Welcome Offer: ₹30,000
+20 Free Spins
18+. BeGambleAware. Terms Apply.

Play Andar Bahar
Welcome Offer: ₹80,000
18+. BeGambleAware. Terms Apply.
About Andar Bahar
Andar Bahar is a popular game within Online Casino in India. It's played with a single deck of cards, including an available croupier including multiple players.
Originally, Andar Bahar was played in Southern India, especially in Bangalore. But lately, we see more and more players picking up the game in more parts of the country.
Even online, many players are gambling regularly on this game. Andar Bahar is almost a century old but has never lost its charm. It has evolved, but the main essence of the card game remains the same.
Furthermore, it's also called 'Maang Patta' or 'Katti.' If you haven't tried it out before, you can enjoy it both offline & online on all devices.
Players play this game at their own risk if they are gambling for real money. But by doing that, the excitement level increases. Hence, Andar Bahar will suit even non-players that just look for some action or an adrenaline rush.
We would recommend you playing live at the Live Casino section at the casino sites. Then you can enjoy the game online, but still with real tables plus croupiers.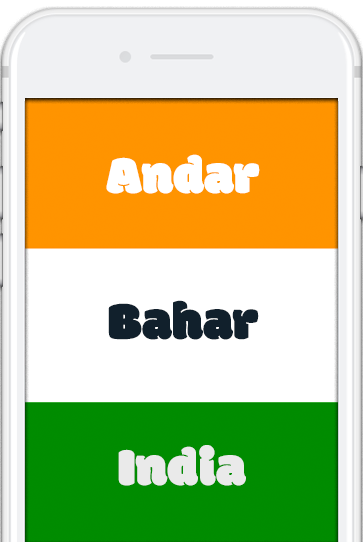 Where to play Andar Bahar?
Andar Bahar is often played at home or in casinos. Currently, since online games are widespread, card games are also played online. There are plenty of applications online that support this card game.
If you're new to the game, please practice with 'play money' first before gambling with real money. Then as we mentioned before, you can play Andar Bahar with real dealers at real online tables.
It works via live web cameras that stream everything to your computer or mobile devices. In other words, this is the modern way of playing Andar Bahar in India.
» Click here to find some casinos with welcome offers.
Andar Bahar can be an enjoyable and exciting game you can play alone or with family or friends. Some places allow you to play for free or with Indian Rupees. But when it comes to online gambling, you will use real money at the tables.
There are also underground clubs that host this entertainment.
However, we don't recommend you playing at unregulated or secretive places, as some might cheat or have less favorable rules for the players. So stick to regulated casinos.
"Andar Bahar Online – A casino game that grows in popularity every year in India."
How to play Andar Bahar
You play Andar Bahar with a single 52 card deck. The probability of winning the game is 50:50. In this section, we'll give you more information on how to play this game.
We can start by saying that online Andar Bahar is pretty straightforward. The game itself almost function in the same way as Baccarat. There will be a croupier who will deal with the card deck.
There are two sections within the game: one is the Andar, the other is Bahar. Andar means inside, Bahar means outside. It can also mean left and right.
After shuffling the cards thoroughly, the dealer picks a random card and then places it on the table. This card is called the 'Joker Card' or the 'Game Card.' The croupier then will turn up the card one by one and place them alternatively once on Andar, then on Bahar.
The players or the people betting should predict (or trying to guess) where the identical 'Joker Card' will land. That's how players place a bet. Since there are just two sides, the chances of winning the game are 50/50.
You can bet from 50 INR to 5000 INR or even 1 Lakh plus. It's up to you. Note that tables will have different betting limits. If you're a high roller, there will be VIP tables where the limits are higher. There is zero logic and not much thinking to do while playing this game.
All you have to do is to guess where the 'Game Card' will end up. The game ends when the cards match, i.e., when the dealer turns up the same value as the 'Joker Card.' In other words, pick Andar or Bahar, then hope that you chose the winning side.
To give you a more precise idea of the game, let's take an example:
Once the croupier shuffles the card deck, he/she picks a random card. Let's say it's the 4 of Clubs (Black), then that card gets places on the table. The 4 of Clubs is now the 'Game Card.'
What's happening next is that one card will be placed on Andar and one on Bahar. Then you will have the option of betting again. After that, the cards are dealt one at a time. If you predict the 4 will land at Andar and suppose it does land at Andar, you win the bet. If it lands in Bahar, you lose what you have put in the middle.
There is no fixed number of matches or rounds. It can go on as long as possible.
You can play this game endlessly, but it can lead to addiction to gambling, which is why practicing responsible gambling is essential. Only individuals above 18 are allowed to play this card game.
Moreover, let's discuss how to place the bets:
You need to decide the amount you're betting on plus which side you want to bet, whether it's Andar or Bahar. If you win the game, all the money goes to you. If you lose, the game will reset, and you can play one more time.
A basic technique or strategy to win the game is to double the bet when you lose and retreat to the starting bet amount when you win. That system is known as the martingale betting system. It's a strategy that has been popular for hundreds of years.
In short, you should double your bet if losing until you win. If it's a 50/50 game, eventually, you will end up winning. However, we don't recommend this tactic to anyone as it doesn't guarantee that you'll end up winning.
Finally, be mindful while placing bets and know when to stop playing. It should be exciting, not cause any problems for you or your loved ones. Therefore, if you're gambling online, set limits on how much you are ready to lose.
Andar Bahar online
Since smartphones are used extensively, you can now play card games like Andar Bahar or Teen Patti at your fingertips within the comforts of your house.
Whether you're at a cafe or your couch, it's easily accessible anywhere around the globe. You can play it at your convenience and no longer depend on people to be physically present.
Playing Andar Bahar online is fun, simple, and exciting. You can play live games too, where you get to immerse yourself in the real gambling world and experience it to the fullest.
How is that possible, you might ask? Well, we have to thank live game providers like Evolution Gaming, Ezugi, Pragmatic Play, and Super Spade for this option.
To play it online, all you have to do is download the Andar Bahar app from the AppStore or visit some online casino site, sign up, choose the suitable banking method, and start. It's as simple as that!
Summary
That was a brief overview of the beloved casino game Andar Bahar. Since it's one of the simplest games online and offline, thousands of people play it every day.
The betting gets exciting once you bury yourself into Andar Bahar, but remember, it can also be dangerous if you don't know your limits. So remember to practice with play money if you don't want to risk real money.
There are no tricks or real strategies to win this game due to its mathematical simplicity. You either win or lose; there's no in-between. It's all about luck! So go out there and enjoy the games for fun, or gamble with real money.
How to win at Andar Bahar online?
There is a 50/50 chance of winning when playing at Andar Bahar. But there are various strategies and tactics that you can use. However, it won't change the mathematical aspect of the game. Some might use the martingale probability theory system. So by doubling your bet all the time, eventually, your side of the 50% chance will end up winning.
How many cards are used in Andar Bahar?
Short answer, 52 cards. So it's a single deck of cards, which makes Andar Bahar a very simple game to master.
Can I play with a bonus?
Yes, it's possible to play Andar Bahar with bonus offers at online casinos. Make sure to check the terms and conditions for bonuses to see if they're available at the Live Casino or table games. If that's the case, you can use the bonus money on this game.
Is Andar Bahar available in English?
At most sites online, the game Andar Bahar will be available in English. So the croupiers will talk English, and the text will be in the same language.
Is Andar Bahar available in Hindi?
Yes, there are some places online that host the game in Hindi. Also, there are play money games and apps in Hindi as well. Just check in the language menu where you gamble and choose Hindi if it's possible.
Can I play Andar Bahar with real cash?
Yes, in India, you can play with real cash both offline at land casinos and online on online casinos.

Jonas Gustafsson
Founder & Editor
Page created by Jonas Gustafsson, 10+ years of online gambling experience.
Contact: jonas@gambul.com